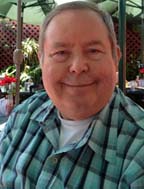 Henry David is a living-donor kidney transplant recipient and a former dialysis patient, and has suffered from chronic kidney disease for many years as a result of diabetes. He is a member of the Transplant Recipients International Organization (TRIO) and serves on the board of directors of TRIO's Ventura County West Valley Chapter.
Education
Graduated from Birmingham High School, 1966
Attended Tulane University in New Orleans, 1966–1968
Graduated from UCLA with a degree in psychology, 1970
Received an MBA from Loyola Marymount College, 1983
Business Background
Henry is an entrepreneurial businessman who began as an intern at Melco Wire Products in Glendale in 1961 and retired as President and CEO in 2000, when he closed the factory. In the intervening years, he also established Melco Trading Company, brokering commodities, and the Coronado Cement Company, importing shiploads of cement into San Diego. In 2000, Melco Engineering—which Henry continues to run—began operation as a virtual firm that manufactures tools for blood-bank donor rooms.
Personal
Henry is married to Wendy David. They have two children and live in Calabasas, California.