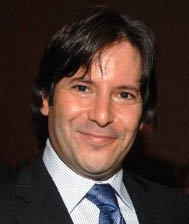 Lewis Kleinberg has written and developed motion picture and television projects for ten years. Through his production company, Midnight Oil Productions, Mr. Kleinberg (with Leslie Greif/The Greif Company) produced Monday Night Mayhem, a film for Turner Network Television based on the history of Monday Night Football. The project, scripted by Bill Carter and directed by Ernest Dickerson, received multiple commendations, including a Golden Globe nomination for star John Turturro as Howard Cosell.
Kleinberg will serve as executive producer on "Some Assembly Required", a Christmas comedy for USA Network written by Deborah Frank and Steve Hayes from Kleinberg's original story. (Some Assembly Required was recently acquired by New Regency and is being developed as a feature film for Kleinberg to produce.) He is also developing/exec-producing Inside Today: Battle for the Morning, which he and co-writer/director Bob Balaban set-up at Showtime.
Kleinberg's recent writing projects include a script about the lost city of Atlantis purchased by Twentieth Century Fox and Arnold Kopelson Entertainment. After graduating from the USC School of Cinema-TV, he was hired by Tom Naud, president and C.E.O of Introvision films to write Adventures on a Strange Planet, a futuristic space thriller. He segued to The Smugglers, a half-hour television show that he created with producer Joe Morita, son of the late Akio Morita, the co-founder and chairman of Sony. The project, which took Kleinberg to Tokyo, continues to be developed in Asia. Kleinberg's first motion picture script, a family film entitled "Running For Cover", was purchased preemptively by Walt Disney Pictures for producer Dawn Steel. The project was developed and re-optioned in 1995 by Disney.