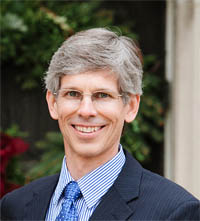 Director, USC/UKRO Kidney Research Center
Chief, Division of Nephrology and Hypertension, USC Keck School of Medicine
Dr. Ken Hallows graduated magna cum laude in 1987 from Brown University with an Sc.B. in Biophysics. He then joined the M.D.–Ph.D. program (MSTP) at the University of Rochester School of Medicine, completing his Ph.D. in Biophysics in 1993 and receiving an M.D. degree with honor in 1995. Following his medical residency and a nephrology fellowship at the University of Pennsylvania in Philadelphia (and serving for a year there as an instructor in medicine), he joined the faculty at the University of Pittsburgh in 2002—first as an assistant professor and then as an associate professor with tenure.
He arrived at the University of Southern California's Keck School of Medicine on July 1, 2015, to serve as the director of the USC/UKRO Kidney Research Center and the chief of the Division of Nephrology at the Keck School.
Since his fellowship, Dr. Hallows's research has been continuously funded by the National Institutes of Health (NIH), along with grants from the National Kidney Foundation, the American Heart Association, the American Society of Nephrology, the Cystic Fibrosis Foundation, and Dialysis Clinics, Inc. He is extensively published in such periodicals as the Journal of Biological Chemistry and the American Journal of Physiology (along with the latter's subsections on renal and cell physiology) and has co-authored chapters in books such as Schrier's Diseases of the Kidney (ninth edition). He also serves as associate editor for Frontiers in Renal and Epithelial Physiology and is on the editorial board of the Journal of the American Society of Nephrology and the American Journal of Physiology: Renal Physiology. He has lectured extensively and headed numerous workshops and discussion groups, as well as supervised the research of many faculty members, postdoctoral fellows, predoctoral trainees, and undergraduates.
Dr. Hallows sees his position with the USC/UKRO Kidney Research Center as an opportunity to build a top-notch team within the vibrant research environment of the Keck School of Medicine, using the strengths of its existing world-renowned kidney researchers. He looks forward to promoting multiple collaborations among faculty and trainees; to training and mentoring students, fellows, and junior faculty; and to the opportunities, challenges, and satisfaction that go with leading a dedicated clinical and research team. He intends to promote nephrology as a career and encourage future physician/scientists to go into renal research, which seriously lags behind heart and cancer research, for example, in developing evidence-based clinical therapies. His ultimate career goal is to improve the lives of kidney patients.
View a list of Dr. Hallows's research priorities at the USC/UKRO Kidney Research Center.