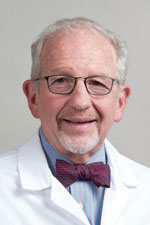 Isidro Salusky, M.D., holds several positions at the David Geffen School of Medicine at the University of California Los Angeles: Distinguished Professor of Pediatrics; Chief, Division of Pediatric Nephrology; Director, Clinical Translational Research Center; and Associate Dean of Clinical Research.
As a clinical-translational research scientist in the subspecialty field of bone and mineral metabolism in children with chronic kidney disease (CKD), Salusky aims to advance medicine's understanding of the mechanisms of disordered mineral metabolism in patients with CKD, including the roles of fibroblast growth factor-23 (FGF23), vitamin D, and parathyroid hormone in phosphorus and calcium metabolism. His focus is on hormonal function and the pathophysiology of bone formation and mineralization in children with CKD, and he has explored and described the features of bone diseases across the spectrum of CKD, as well as the effects of therapy with active vitamin D sterols and phosphate binders.
Salusky's research has provided significant groundwork for elucidating the relationship between abnormalities of bone and mineral metabolism and vascular calcifications. More recently, he has focused on a better understanding of the role of FGF23 in the pathogenesis of CKD–Mineral and Bone Disorder, with the goal of describing the relationship between bone histomorphometry and FGF23. In this line of research, he and his colleagues have for the first time characterized the FGF23 bone expression in patients with CKD stage 2, as well as the effects of therapy with active vitamin D sterols on FGF23 levels. On the whole, Salusky's research agenda presents multiple avenues for comparative effectiveness and patient-centered outcomes.