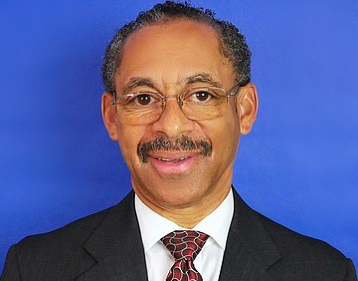 Oliver Tate Brooks, M.D. received his undergraduate degree in biology from Morehouse College in Atlanta, Georgia in 1977, graduating in three years. While at Morehouse, he received the Frederick E. Mapp Prize in Biology for excellence in biology. Dr. Brooks received his medical degree in 1981 from Howard University College of Medicine, where he was a summer instructor in biochemistry. He completed a residency in Pediatrics at Children's Hospital-Oakland, where he practiced for four years before accepting a position at Watts Healthcare Corporation.
Dr. Brooks is Chief Medical Officer and past Chief of Pediatric and Adolescent Medicine at Watts Healthcare Corporation in Los Angeles, California (CA) where he also serves as the Medical Director of the Jordan and Locke High School Wellness Centers. He is a Medical Director for L.A. Care Health Plan, one of the nation's largest Medicaid managed care plans whose mission is "to provide access to quality health care for Los Angeles County's vulnerable and low-income communities and residents". He holds staff appointments at Centinela Hospital in Inglewood, CA and at Martin Luther King Community Hospital in South Los Angeles, CA. Dr. Brooks is Immediate Past-Chairman of the Community Clinic Association of Los Angeles County, a consortium of 43 community health centers in the southern California area.
Dr. Brooks is the immediate Past President of the National Medical Association (NMA), and has held several leadership positions within the NMA, including at the state and local level, as Past President of the Golden State (CA) Medical Association and Past President of the Miller-Lawrence Medical and Dental (local) Society.
Dr. Brooks is a present Board member and Past President of the California Immunization Coalition and Chairman of the Immunize LA Families Coalition. He is a member of the national Leadership Panel for the Adolescent Immunization Initiative (AII), which advocated successfully for adding a column on the Advisory Committee on Immunization Practice's Center for Disease Prevention and Prevention (CDC) yearly vaccine recommendations in 2017. Dr. Brooks is often requested to speak to the media on issues related to immunizations and is a vocal and passionate advocate for reduced disparities in immunization rates among disadvantaged communities. He also is frequently asked to present to physicians and other medical groups on the science and the implementation perspective of vaccine utilization. In June 2020, Dr. Brooks asked to, and joined the ACIP COVID-19 Work Group discussing and making recommendations to the ACIP regarding (potential) COVID-19 vaccine prioritization. Dr. Brooks is a member of the Best Practices Leadership, of the Right Care University of Best Practices, a group dedicated to reducing heart disease in California and nationally.
His community service extends beyond health and wellness and includes serving as Past President of the Long Beach Museum of Art's Board of Trustees.
Dr. Brooks has received numerous honors and awards; he was honored by the National Council of Negro Women, Long Beach, California for Outstanding Service to the Community and in 2017, he was the Wall of Excellence for Medicine awardee for Long Beach 2016 Black History Month. In 2019, Dr. Brooks was honored as one of the Top Blacks in Health Care by BlackDoctor.org.
Dr. Brooks is a member of the Kappa Alpha Psi and Sigma Pi Phi (the Boule) fraternities. He is married to his wife of 32 years, Lisa and has two children, Alana and Joseph.