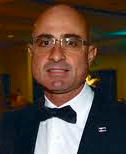 Miguel Koenig is a trustee and chief financial officer for The Erich & Della Koenig Foundation, as well as a principal in Koenig Investments, located in San Diego. Koenig Investments participates as an investor in deals with Black Equities Group, The Dinerstein Companies, and the Con­solidated American Group of Companies.
Prior to that firm's founding in 2007, he spent nine years as founder/chief executive officer of Koenig Investment Manage­ment, LLC, a registered investment advisory firm specializing in Latin American high-net-worth individuals. Before that, he served as presi­dent/CEO of IFS Investment Advisory Services and as a senior foreign exchange trader and part­ner with IFS International Money Exchange. In the 1990s, Mr. Koenig secured KFC franchises for seven res­taurants within four states on Mexico's Pacific Coast (including establishing the first KFC kiosk in the Mexico City airport) and was a manager and partner in build­ing a retail foreign exchange operation in Acapulco. He has experi­ence as a foreign exchange trader with Citibank in Mexico City and with D.H. Blair & Co. on Wall Street.
Mr. Koenig's hobbies are golf and sport fishing, and he is the current world record holder for the largest Pacific blue marlin ever caught in a fishing tournament, weighing in at 1,258.5 pounds. Mr. Koenig graduated from the University of Southern California with a B.S. in business admini­stration, and pursued post-graduate studies at the New York Institute of Finance.