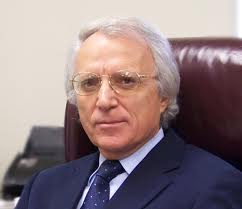 Vito M. Campese, M.D. is Co-Director of the USC/UKRO Kidney Research Center and a Professor Emeritus of Medicine, and a former chair of the Division of Nephrology and Hypertension at the Keck School of Medicine of the University of Southern California. In addition to serving as a UKRO board member, he is Chairman of UKRO's Medical Scientific Advisory Board.
A native of Bari, Italy, he received his medical degree, Summa Cum Laude, from the University of Bari. His internship, residency and fellowship in nephrology were completed at the Policlinico in Bari. Dr. Campese came to the United States to do a fellowship in hypertension at the USC (Keck) School of Medicine.
Dr. Campese has had a distinguished career at USC and the Keck School of Medicine. His first position, in 1975, was as an Assistant Professor on the Hypertension Service. He was then made an Assistant Professor in the Division of Nephrology before being elevated to an Associate Professor. He has been a full professor since 1985.
Dr. Campese is a Diplomate of the American Board of Internal Medicine, a Diplomate of the American Board of Nephrology, and a specialist on hypertension. He is also a national and international member of the American Society of Nephrology and the American Society of Hypertension. Concurrently, he is active in the American Heart Association's Council for High Blood Pressure Research and the American Society of Hypertension.
His research interests include such topics as salt sensitivity in hypertension, hypertension and renal failure, cytokines and the neurogenic control of blood pressure, and the role of the sympathetic nervous system in primary hypertension. Currently, he is a member of the Institutes of Health (NIH) Study Section, "Hypertension and Microcirculation."
Dr. Campese's editorial experience is extensive. He served as Assistant Editor of the American Journal of Nephrology from 1980 until 2002, and was on the Editorial Board of Hypertension and Journal of Hypertension. He now sits on the editorial boards of such publications as the American Journal of Hypertension, Journal of Human Hypertension, Journal of Nephrology, and Journal of the American Society of Nephrology . He has served as a reviewer for over 25 peer-reviewed medical journals including Lancet , the New England Journal of Medicine, Circulation, and the American Journals of Kidney Disease and Hypertension. Dr. Campese has authored over 240 scientific articles, 167 abstracts, and lectured, extensively, worldwide.
In November of 2019, Dr. Campese was awarded the Ordine della Stella d'Italia (Order of the Star of Italy) by the President of Italy.