Exciting Collaborations to Fight Kidney Diseases
These are just some of the KRC's innovative cross-disciplinary studies to find new treatments to improve patients' lives and alleviate the suffering of millions of adults and children.
Creating a Synthetic Kidney and Kidney Organoids with Stem Cell Technology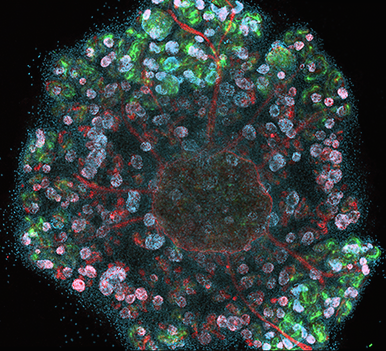 Andrew McMahon, Ph.D., W.M. Keck Provost and University Professor of Stem Cell Biology and Regenerative Medicine, and Biological Sciences; Chair, Stem Cell Biology and Regenerative Medicine; Director, Eli and Edythe Broad Center for Regenerative Medicine and Stem Cell Research at USC and Zhongwei Li, Ph.D., Assistant Professor, Medicine, Stem Cell Biology and Regenerative Medicine and a principal investigator at the KRC, are collaborating with labs across USC to build a transplantable, synthetic kidney to replace normal kidney function in patients. Dr. Li is also creating kidney organoids or "mini kidneys" to model kidney diseases and test new therapies.
Uncovering Much-Needed New Treatments for PKD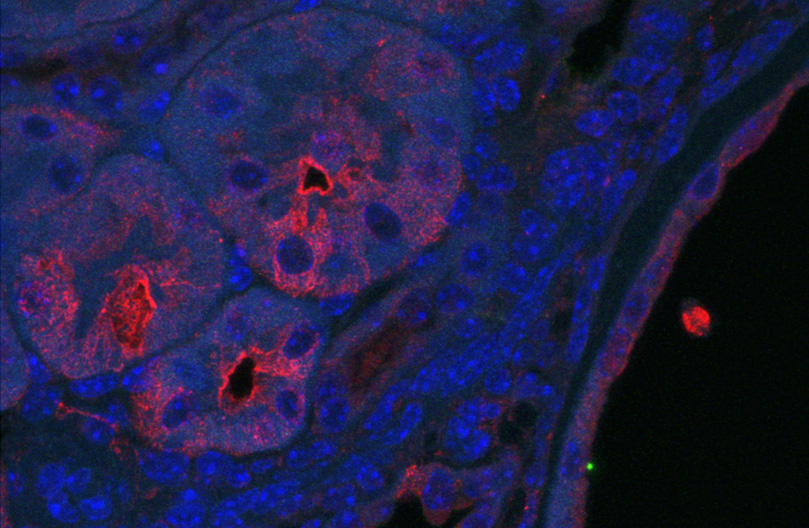 KRC researchers are hard at work tackling the most common inherited kidney disease, polycystic kidney disease or PKD. They are analyzing protein expression in PKD tissue (shown above) to find new drug targets, and they are looking for ways to repurpose drugs for novel uses to fight PKD.
Creating Nanoparticles to Combat Kidney Diseases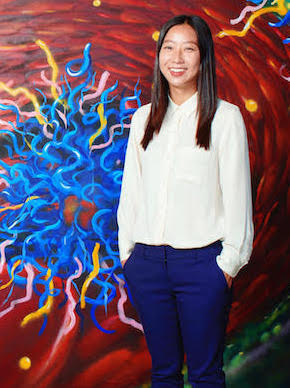 Eun Ji Chung, Ph.D., Dr. Karl Jacob Jr. and Karl Jacob III Early Career Chair and Assistant Professor in Biomedical Engineering, Chemical Engineering and Materials Science, Medicine, and Surgery at USC, (pictured at left) is working with Dr. Ken Hallows, Director, KRC; Professor of Medicine; Chief, Division of Nephrology and Hypertension at the Keck School of Medicine of USC, on an exciting collaboration, using tiny nanoparticles called "micelles", to target diseased kidney cells. Made with an ingenious kidney-targeting peptide, these biocompatible and biodegradable micelles can pass into the kidney and remain there, with the potential to deliver life-saving drugs where they are needed most.
Developing Therapies to Protect Living Kidney Donors
Preclinical and clinical studies are underway to improve outcomes and function of the remaining kidney for living kidney donors. — Collaboration between Drs. Nuria Pastor-Soler and Hallows/KRC, Dr. Alicia McDonough, Dept. of Integrative Anatomical Sciences, and Dr. Andy McMahon, Dept. of Stem Cell Biology and Regenerative Medicine
SaveSave