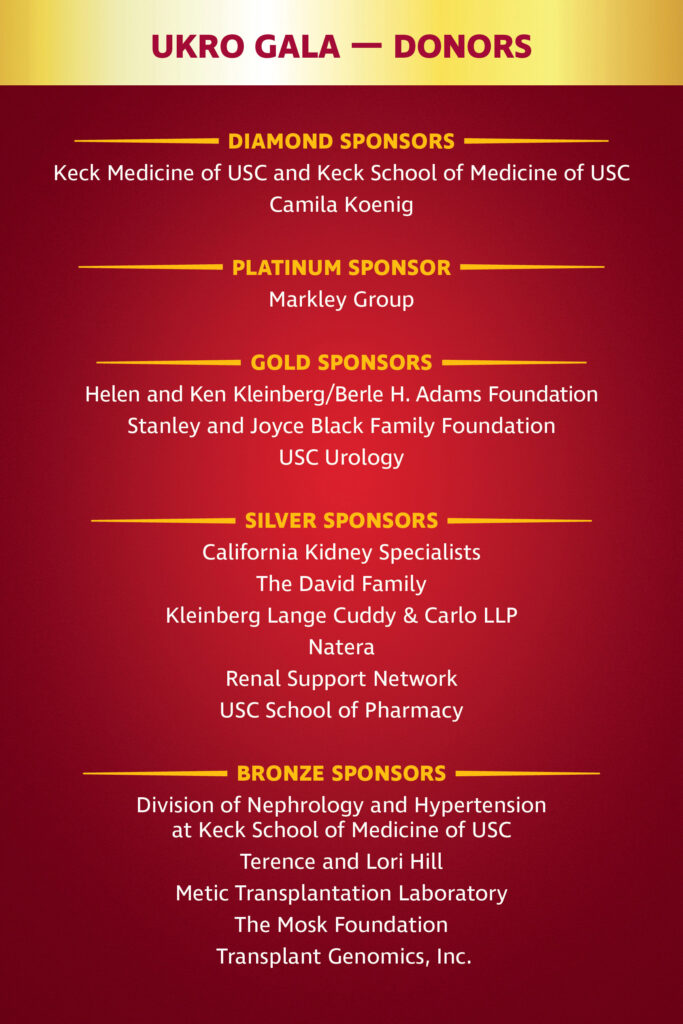 Many thanks to our generous sponsors and donors for helping to make UKRO's Gala Dinner Under the Stars on Friday, June 10, 2022 a great success! The beautiful Wilshire Garden at the Beverly Hilton was the perfect setting to gather together again after more than three years apart. We were honored to welcome USC President Carol Folt, Dr. Steven Shapiro, Dean Carolyn Meltzer and Dr. David Peng, along with USC researchers and clinicians to help us celebrate three amazing individuals who have made major contributions to medicine, healthcare and the kidney community—all in support of USC's revolutionary synthetic kidney project. Hosted by our incomparable Master of Ceremonies, ABC7 Eyewitness News anchor Phillip Palmer, the night was filled with inspiration, hope and surprises. Our guests were treated to four fantastic films created by UKRO board members, Lewis Kleinberg and Ammiel Najar, highlighting the achievements of each of our honorees and providing a fun and informative overview of the synthetic kidney project. We capped off the night with a rousing performance by the USC Trojan Marching Band, accompanied by everyone's favorite mascot, Traveler. Kudos to our event planner Judy Levy of LPA Events, UKRO's Gala Committee, our event producer Amy Shomer, Vince Bucci and his talented team of photographers and the Beverly Hilton staff for creating the perfect night!
Congratulations to Our Honorees
RODNEY HANNERS
EXTRAORDINARY EXECUTIVE LEADERSHIP
For extraordinary achievement in executive leadership of Keck Medicine and the USC Health System during the most challenging of times, and for driving clinical efficiencies and promoting a culture of trust and teamwork throughout the organization
Rodney Hanners is the Chief Executive Officer of Keck Medicine of USC and the President and Chief Executive Officer of USC Health System. He is responsible for oversight of the university's clinical activities, including USC Care Medical Group; Keck Medical Center of USC, which includes two acute care hospitals: Keck Hospital of USC and the USC Norris Cancer Hospital; USC Verdugo Hills Hospital; and more than 67 outpatient clinics from Bakersfield to Newport Beach and other clinical practices and joint ventures throughout Los Angeles and Orange Counties. He has successfully led the health system through the more than two years of COVID-19 complications and challenges. Prior to serving as CEO of Keck Medicine, Hanners was the chief operating officer for Keck Medicine as well as the CEO for Keck Medical Center.
******
INDERBIR S. GILL, M.D.
EXTRAORDINARY PHYSICIAN AND MEDICAL INNOVATOR
For extraordinary achievement as a physician and medical innovator saving lives of countless patients all over the world and for immeasurable contributions in improved treatments and protocols in the field of urology
Dr. Inderbir Gill is the Distinguished Professor & Chairman of the Catherine and Joseph Aresty Department of Urology, Founding Executive Director of the USC Institute of Urology and Associate Dean for Clinical Innovation at the Keck School of Medicine of USC. He also holds the Hanson-White Chair. Dr. Gill is an internationally recognized leader in the field of robotic and laparoscopic surgery for urologic cancers. An acclaimed innovator, he is the world leader in laparoscopic partial nephrectomy and cryoablation for kidney cancer. Additionally, Dr. Gill and his team are leaders in robotic and laparoscopic surgery for prostate and bladder cancer, having pioneered many major surgical advances in these areas. He is a distinguished researcher and prolific scholar.
******
LORI HARTWELL
SPIRIT OF LIFE AWARD
In recognition of her lifelong battle against kidney disease and her extraordinary humanity and support of patients struggling with kidney diseases
Lori Hartwell is the President & Founder of Renal Support Network, a patient advocate and kidney disease survivor. Her mission is to help people living with chronic kidney disease. Hartwell suffered kidney failure at the age of two, survived 50+ surgeries and 13 years of dialysis, and is now living with her fourth kidney transplant. Hartwell founded Renal Support Network in 1993 to instill "health, happiness, and hope" into the lives of fellow patients; she serves as President to this day and has inspired patients, family members and healthcare professionals. She has built a national network of people who she refers to as her "kidney kin" to help let them know they are not alone in this journey and help them find the tools needed to navigate this illness.