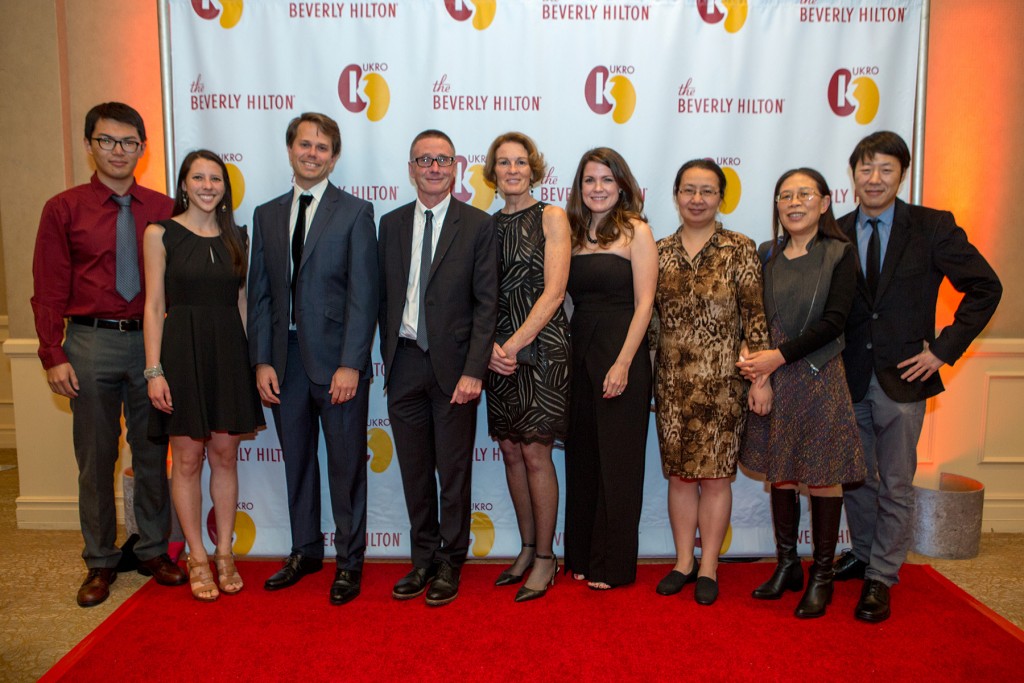 On Friday, March 18, 2016, more than 300 of our friends and supporters gathered at The Beverly Hilton Hotel to honor a stellar group of academic and scientific leaders from USC, raising significant funds in support of the new USC/UKRO Kidney Research Center.
HONOREES
Michael Quick, Ph.D., USC Provost and Senior Vice President for Academic Affairs – Extraordinary Achievement in Academic Leadership Award
Andrew P. McMahon, Ph.D., W. M. Keck Provost Professor and Chair of Stem Cell Biology and Regenerative Medicine; Director, Eli and Edythe Broad Center for Regenerative Medicine and Stem Cell Research, Keck School of Medicine of USC – Extraordinary Achievement in Regenerative Medicine and Stem Cell Research Award
Robert R. Selby, M.D., Professor of Surgery; Division Chief, Hepatobiliary & Pancreatic Surgery and Abdominal Organ Transplantation, Keck School of Medicine of USC – Extraordinary Achievement in Kidney Transplantation Award
Yasir A. Qazi, M.D., Associate Professor of Clinical Medicine, Medical Director, Kidney-Pancreas Transplant Program, Keck School of Medicine of USC – Extraordinary Achievement in Kidney Transplantation Award
In recognition of the Kidney Transplant Program, Keck School of Medicine of USC
Master of Ceremonies Phillip Palmer, ABC7 Eyewitness news anchor
An Evening of Song with renowned soprano Elisabetta Russo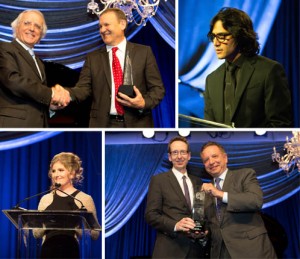 BIOGRAPHIES
Dr. Michael Quick was appointed Provost on April 1, 2015. He also serves as Senior Vice President for Academic Affairs, and as Professor of Biological Sciences in the USC Dornsife College of Letters, Arts and Sciences.
As the university's second-ranking administrator, he oversees the USC Dornsife College as well as the Keck School of Medicine of USC and 17 other professional schools, in addition to the divisions of student affairs, libraries, information technology services, research, student religious life and enrollment services.  His strategic priorities for the university include tackling the "wicked problems" confronting the 21st Century, faculty and student access and opportunity, educational value and affordability, and global impact.
Dr. Quick received his Ph.D. in Neuroscience from Emory University and studied as a post-doctoral research fellow at the California Institute of Technology. Before coming to USC in 2002, he was on the faculty at the University of Alabama at Birmingham. His scholarship focuses on how therapeutic drugs and drugs of abuse alter the signaling properties of nerve cells.
Dr. Quick previously served as Director of the Neuroscience Graduate Program, Vice Dean for Research and Executive Vice Dean of USC Dornsife, and Executive Vice Provost and Vice President for Academic Affairs.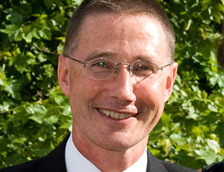 Andrew P. McMahon, Ph.D.
Professor Andrew McMahon graduated from Oxford University (1975–1978), and his subsequent Ph.D. research in the MRC Mammalian Development Unit at University College London (UCL) focused on mammalian genetics (1978–1981). From UCL, McMahon moved to the California Institute of Technology, where his postdoctoral research explored gene regulatory mechanisms using a sea-urchin model, developing the first transgenic animals in this system (1981–1984). McMahon's independent research career began at the National Institute for Medical Research (NIMR) in London (1984–1988). From NIMR, he moved to the Roche Institute of Molecular Biology (RIMB), arriving as an assistant member and becoming chair of the Department of Cellular and Developmental Biology (1988–1993). In 1993, McMahon was recruited as a full professor to the departments of Biochemistry and Molecular Biology (BMB) and Cellular and Developmental Biology (CDB) at Harvard University. At Harvard (1993–2012), McMahon was Chairman of the Department of Molecular and Cellular Biology (formed on the fusion of BMB and CDB), a faculty member in the Department of Stem Cell and Regenerative Biology, a founding member of the Harvard Stem Cell Institute, and the Frank B. Baird, Jr., Professor of Science. In 2012, McMahon was appointed Keck Provost Professor at the University of Southern California, chairman of the Department of Stem Cell Biology and Regenerative Medicine, and director of the Eli and Edythe Broad Center for Regenerative Medicine and Stem Cell Research.
McMahon's research has pioneered genetic approaches examining signaling mechanisms that direct the normal processes of mammalian embryonic development and the pathological processes of tumor formation. His group discovered the mammalian Hedgehog signaling pathway and revealed the genetic complexity of Wnt-signaling in mammalian development.
Having elucidated developmental programs regulating the development of organ systems, McMahon's group focuses on the mammalian kidney—identifying the cells and cell assembly processes that generate nephrons (to develop strategies to rebuild the kidney's structure) and that spur the mechanisms of renal repair (to improve on intrinsic processes to treat kidney injury and disease). Several former laboratory trainees are leading independent kidney researchers in major institutions in Europe and the U.S.A.
McMahon has published over 280 primary research articles in peer-reviewed journals, and has been listed amongst the top 400 cited biomedical scientists worldwide (1996–2011). He is a co-recipient of over 20 issued U.S. patents (many extending outside the U.S.A.) predominantly focusing on intellectual property around the Hedgehog and Wnt pathways. McMahon was a founding scientific advisor to Ontogeny/Curis. In 2012, Erivedge—co-developed in partnership by Curis and Genentech—became the first FDA-approved anti-Hedgehog cancer drug for the treatment of advanced invasive basal cell carcinoma.
McMahon is an elected Fellow of the Royal Society (FRS), a member of the American Association for the Advancement of Science and the American Academy of Arts and Sciences, and an elected Associate Member of the European Molecular Biology Organization. His group is supported by grants from the National Institutes of Health (NINDS and NIDDK), the California Institutes of Regenerative Medicine, and an academic-industrial partnership with Biogen-Idec. McMahon's research has been recognized by a number of awards, including NIH Merit and Javits Awards for kidney and neural research, respectively.
Robert R. Selby, M.D.
Dr. Selby is a Professor of Surgery at the USC School of Medicine and Chief of the Division of Hepatobiliary and Pancreas Surgery and Abdominal Organ Transplantation. He graduated cum laude from the University of Missouri School of Medicine at Columbia, Missouri. Before joining USC, he served on the faculty of the University of Pittsburgh, where he trained in multi-organ transplantations and hepato-biliary-pancreatic surgery and was also named Director of the Multi-Organ Transplantation Fellowship. Dr. Selby has trained more than 45 transplant surgeons who currently participate in transplant programs throughout the world. He is board certified in general surgery and surgical critical care.
Within his division are 13 faculty members and a multi-organ transplant fellowship for two trainees a year. The division also provides multi-organ transplant services to Children's Hospital Los Angeles and Keck Hospital of USC, as well as tertiary surgical care for liver, biliary and pancreatic conditions at eight affiliated hospitals in Los Angeles and Orange County.
Divisional research interests include living- and deceased-donor liver and kidney transplantation, adult primary liver cancers, the extended vascular resection of pancreatic cancers, metastatic cancers to the liver (NET, colon, breast, ovarian, hypernephroma), bile duct injuries, the management of necrotizing pancreatitis, and transfusion-free medicine and surgery.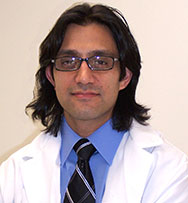 Yasir A. Qazi, M.D.
After serving as an assistant professor of medicine at Erie County Medical Center at the State University of New York in Buffalo, Dr. Qazi came to southern California to head the Kidney-Pancreas Transplant Program at Keck School of Medicine at USC. Dr. Qazi has received nearly $2 million in research grants and has several other studies recently submitted for approval. While in Buffalo, Dr. Qazi was invited to lecture on pancreas transplantation at a number of area medical centers and continues to author numerous peer reviewed articles and abstracts for medical journals. Educated in India, Dr. Qazi was consistently one of the academic leaders among his medical school classmates and he continues to demonstrate his talents and devotion to medicine as an educator, researcher and practitioner.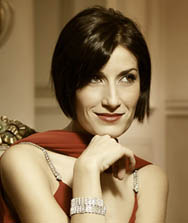 Elisabetta Russo
Elisabetta was born in Bari, Italy. In 2004, she received a Bachelor's degree in Vocal Art from the "S. Cecilia" Conservatory of Music in Rome, then a Masters degree in Chamber Music, with final mark 110/110 cum laude (1) from the same conservatory. She attended the master class with Edda Moser, Renata Scotto, Renato Bruson, and Alberto Zedda.
Winner of many important contests, Elisabetta has performed numerous concerts of sacred music and chamber music in Italy and abroad (particularly in Los Angeles and Hollywood) and has collaborated with conductors and composers such as: Eugene Kohn, Bruno Aprea, Luigi de Filippi, Marco Boemi, Gianna Fratta, Ennio Morricone, Andrea Morricone, Nicola Piovani and Stefano Tomaselli; with directors such as Ugo Gregoretti, Elizabetta Courir, Loredana Martinez, Giovanni Morricone, and Italo Nunziata. Among the most important roles she has played: Norina in Don Pasquale by Donizetti, Fiordiligi in Così fan tutte by Mozart, Tonina in Prima la musica poi le parole by Salieri in Rome, Gilda in Rigoletto by Verdi in Milan and at the RAI Auditorium in Naples; Nannetta in Falstaff (starring Renato Bruson) by Verdi at Teatro Cilea, Reggio Calabria.
In November 2011, she won "Best Female Vocal" at the Hollywood Music in Media Awards. She has recorded  "Brise de Mér", Leoncavallo's arias for voice and orchestra on the Suoneria Mediterranea label, with the direction of Luigi de Filippi and the participation of the Da Ponte Ensemble. On June 6th 2013, she sang at the Paramount Studios for the Simin Foundation with Andrea Bocelli, David Foster, and Eugene Kohn. During the 2013 Columbus Day celebration, she performed successfully at the Italian American Museum of Los Angeles, and more recently, she sang at the Casa Italiana for the Italo-Americano Newspaper 106th Anniversary Fundraising Gala. On April 29th, she performed at the Ann and Jerry Moss Theater in Santa Monica at the Spring Concert with Maestro Andrea Morricone and The Amor Symphonic Orchestra. On August 2014, together with the pianist Giulia Spinedi, she won the first prize in the chamber music section of the XVII International Competition Vincenzo Scaramuzza. Winner of the Beverly Hills recital series 2014/2015, she sang at selected venues in the City of Beverly Hills "Music in the Mansion" series, Music by the Sea Concert Series in Encinitas, Classical Crossroads – The Interlude in Torrance, and other southland series in the Consortium of Southern California Chamber Music Presenters.
BENEFIT CO-CHAIRS
Supervisor Michael D. Antonovich
Jeff Barry
Jack Black
Stanley Black
Jill Black Zalben
Stefania & Vito Campese, M.D.
Candace Carlo
Jo Champa
Stephen Corday, M.D.
Toni & Bruce Corwin
Lynn & Edward Crandall, M.D., Ph.D.
Suzanne Crowell
Wendy & Henry David
Mayor Eric Garcetti
Christine Cuddy & Harry Gittes
Jo-Anne & Richard Glassock, M.D., M.A.C.P.
Marlene & Marshall Grossman
Stephanie Hall, M.D.
Thomas Jackiewicz
Susan Josephson
Gennie Rim & John Kahrs
Linda & Glen Keane
Valen Keefer
Corrinne & Louis Kempinsky
Jena King
Helen & Ken Kleinberg
Jacque & Elliot Kleinberg
Lee & Lewis Kleinberg
Alexis & Enrique Koenig
Camila Koenig
Carmela & Miguel Koenig
Jacquie & Robert Lange
Jeffrey Markley
John K. McKay, Jr.
Robert Mendez, M.D.
Tom Mone
Paula Wagner & Rick Nicita
Pam & Jerry Offsay
Tom Ortenberg
Lynda Oschin
Phillip Palmer
Janet Pine, M.D. & Carmen A. Puliafito, M.D., M.B.A.
Jennifer & Adam Ruderman
Congressman Adam Schiff
Brad Selby
Barbara & Alan Shabo, M.D.
Supervisor Hilda L. Solis
Abe Somer
Nancy Heller & Fred Specktor
Patti & Bob Tannenbaum
Julia & Douglas Trumbull
Susan Vogel
Barbara & Zev Yaroslavsky
For more information, read our press release.