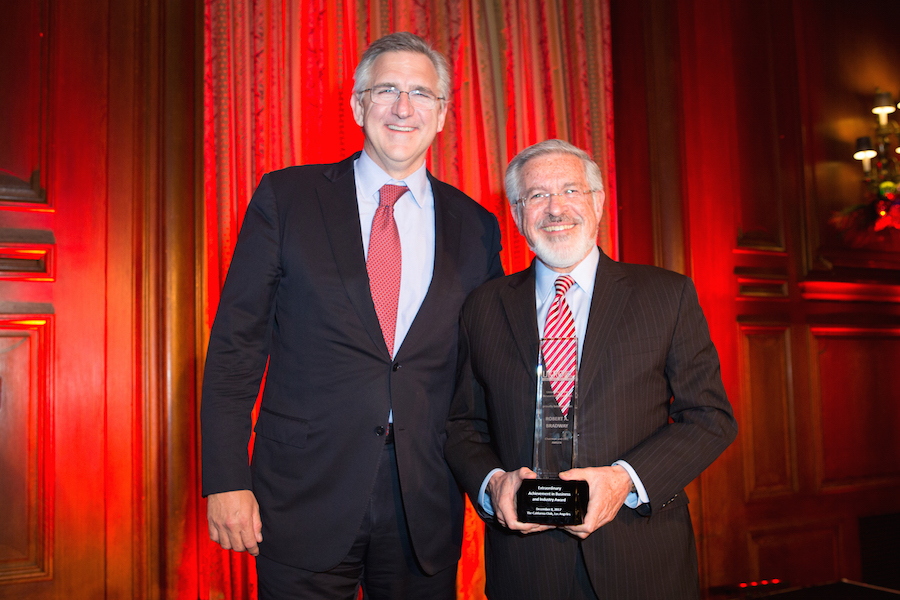 Friday, December 8, 2017 was a night of celebration as UKRO honored three deserving individuals at The California Club at our eighth benefit dinner in support of the USC/UKRO Kidney Research Center.
HONOREES
Robert A. Bradway, Chairman & CEO, Amgen – Extraordinary Achievement in Business and Industry Award
Edward D. Crandall, Ph.D., M.D., Kenneth T. Norris, Jr., Chair of Medicine, Hastings Professor, Department of Medicine, Keck School of Medicine of USC – Extraordinary Achievement in Academics and Science Award
J. Peter Devereaux, FAI, LEED, AP, Chairman & CEO, Harley Ellis Devereaux– Extraordinary Achievement in Civic Leadership Award
Master of Ceremonies Phillip Palmer, ABC7 Eyewitness news anchor
An Evening of Song with Reverse Osmosis
Event Production: Mann Productions
BIOGRAPHIES
Robert A. Bradway is Amgen's chairman and chief executive officer. Bradway became chairman in January 2013 and chief executive officer in May 2012. Bradway served as the company's president and chief operating officer from May 2010 to May 2012, and was appointed to the Amgen Board of Directors in October 2011. He joined the company in 2006 as vice president, Operations Strategy, and served as executive vice president and chief financial officer from April 2007 to May 2010.
Prior to joining Amgen, he was a managing director at Morgan Stanley in London where, beginning in 2001, he had responsibility for the firm's banking department and corporate finance activities in Europe. Bradway joined Morgan Stanley in New York as a health care industry investment banker in 1985 and moved to London in 1990.
He is a member of the board of directors of The Boeing Company, serving on its Audit and Finance committees. Bradway serves on the board of trustees of the University of Southern California and on the advisory board of the Leonard D. Schaeffer Center for Health Policy and Economics at that university. He is the chairman of the CEO Roundtable on Cancer, a non-profit organization comprised of executives founded to bring solutions to cancer treatment and prevention.
Bradway holds a bachelor's degree in biology from Amherst College and a master's degree in business administration from Harvard University.
Edward D. Crandall, Ph.D., M.D.
Edward D. Crandall, Ph.D., M.D., is Hastings Professor of Medicine and Norris Chair of the Department of Medicine at the University of Southern California. He has previously been a tenured faculty member at University of Notre Dame, University of Pennsylvania, UCLA and Cornell University. Dr. Crandall has authored numerous peer-reviewed articles on lung cell biology. Early scientific fields included gas exchange and the role of red blood cell membrane ion transport processes, while his current specific research interests are in the regulation of the differentiation and transport properties of, and interactions of nanoparticles with, alveolar epithelial cells. He was the recipient of a prestigious MERIT Award from the National Institutes of Health. Dr. Crandall is certified in Internal Medicine and Pulmonary Diseases by the American Board of Internal Medicine. His clinical activities in both pulmonary diseases and critical care medicine take place at Keck Medical Center of USC and LAC+USC Medical Center. He is an elected member of the American Society of Clinical Investigation and is on the Editorial Board of Experimental Lung Research. Dr. Crandall received his B.Ch.E. from Cooper Union, his M.S. and Ph.D. in chemical engineering from Northwestern University, and his M.D. from the University of Pennsylvania. His training in internal medicine and pulmonary/critical care medicine was undertaken at the Hospital of the University of Pennsylvania.
J. Peter Devereaux, FAI, LEED, AP
Peter Devereaux was born in Allentown, PA and was raised in Pennsylvania in the suburbs of both Pittsburgh and Philadelphia. In Junior High and High School he was active in varsity track as distance runner and soccer, playing sweeper, and he continues to run daily, now for relaxation rather than training for competition. He received a Bachelor of Science, Major in Architecture from Penn State University, and a Master of Architecture degree from Yale University where he was also the editor of the Journal of the Yale School of Architecture, Perspecta 20. After graduating from Yale, he went to work in the office of the internationally renowned architect, Cesar Pelli, who was at the time Dean of the School of Architecture at Yale.
In 1985 he left Cesar Pelli's office in New Haven, CT to take a position as Design Leader at a small 10-person firm in Los Angeles, Fields & Silverman Architects. In 1987, he became a Principal in that firm and later in 1989 following Joel Silverman's retirement, the firm's name was changed to Fields Devereaux. Over the years Devereaux became the CEO and led the growth of Fields Devereaux to a point where in 2005, it had 175 members working from three offices. In 2006, he merged his company with Harley Ellis a firm of 300 members established in 1908 with offices in Chicago and Detroit. Today he is the CEO of Harley Ellis Devereaux, ranked among the largest of the architectural design firms in the country.
Locally, some of the more notable projects completed by the firm include: the El Capitan Theater in Hollywood, Americana at Brand in Glendale, the Hertzberg Davis Regional Crime Lab located adjacent to the CSULA campus, The Metropolis residential towers in Downtown LA, and The Village at USC. Significant projects outside of Los Angeles County include: The Green Library West Renovation at Stanford University, the San Diego Medical Examiner, Beaumont Hospital in Michigan, Baylor University's Sciences Building, the University of Cincinnati's Center for Academic and Research Excellence, and the Millennium Park development in Chicago.
Soon after arriving in Los Angeles, he met Sarah Hayes, a California native, born in Glendale and raised in Palos Verdes. They were married in 1987 and have resided in Pacific Palisades for over twenty five years where they raised two daughters. The oldest, Jacqueline Holtz, is married and a homemaker living in Burbank with her husband Dustin who is a partner in a small technology company located in downtown Los Angeles. The younger daughter, Caitlin Devereaux, graduated from Rice University in Houston, TX, as an English Major and is now a first year student at the USC Gould School of Law.
Peter and Sarah have been active members of Corpus Christi Parish in Pacific Palisades both having served at different times on the PSA Board and Peter having served nearly twenty years on the Parish Building Committee. Sarah has chaired the Emerald Ball, the annual fundraising event and also chaired the annual fundraising event for the Sisters of St. Louis who serve both the Corpus Christi School and Louisville High School, in Woodland Hills, CA which Jacqueline and Caitlin both attended.
Peter served on the Executive Committee of Big Brothers and Big Sisters of greater Los Angeles for many years and in 2006 was honored as their person of the year at the annual golf tournament held at the Wilshire Country Club. Peter has also been an active member of the Jonathan Club since 1988, serving on their Board of Directors and as Club President in 2006-07. In 2006 Peter was elevated to the College of Fellows of the American Institute of Architects. An honor bestowed upon him by his peers, acknowledging his contributions to the profession having impact at a national level. Currently, he serves on the Executive Committee of the AIA Large Firm Round Table, an organization that brings the CEO's of the fifty largest architecture firms in the country together twice yearly.
Reverse Osmosis
Reverse Osmosis (RO) is a co-ed a cappella group founded in 2001. By 2006, RO became the first USC a cappella group to attend the ICCA finals, placing as semi finalists in 2011. RO also hosted the ICCA Western Division Quarter and Semifinals in 2009, 2010 and 2012. In 2009, RO opened for Ben Folds at the Hollywood Palladium, where they were awarded the winners of the night's a cappella showdown. RO was named the champion of Absolut A Cappella in the winter of 2010 and in the spring of 2013. The group has performed in New York, Washington, D.C., Arizona, San Francisco, and Los Angeles. Upon the release of the movie Pitch Perfect in the winter of 2013, RO became the Honorary Pitch Perfect Pipers, appearing at Santa Monica Mall and on Access Hollywood to celebrate the Blu-ray/DVD release of the film. RO has released 6 albums to date, their most recent being No Filter, released in 2014. We are excited for the recording of our 7th studio album, with an aimed release of late 2017/early 2018!