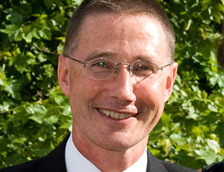 Andrew P. McMahon, Ph.D., is director of the Eli and Edythe Broad Center for Regenerative Medicine and Stem Cell Research at USC. He is Provost Professor and the inaugural holder of the W. M. Keck Professorship of Stem Cell Biology and Regenerative Medicine. In addition, he chairs the newly created Department of Stem Cell Biology and Regenerative Medicine at the Keck School. McMahon also holds an appointment in the Department of Biological Sciences in the USC Dornsife College of Letters, Arts, and Sciences.
Prior to joining USC, McMahon was the Frank B. Baird, Jr. Professor of Science in the Faculty of Arts and Sciences at Harvard University and served on the Executive Committee of the Harvard Stem Cell Institute. In 1993, he joined Harvard University as a full professor, and from 2001 to 2004, served as chair of its Department of Molecular and Cellular Biology. McMahon also served as professor in the Department of Stem Cell and Regenerative Biology, Department of Molecular and Cellular Biology and principal faculty member in the Harvard Stem Cell Institute.
McMahon and his team study the mechanisms that underlie the assembly, repair, and regeneration of critical organ systems, and have made enormous contributions to the understanding of the way the kidney matures during development. In building knowledge on these subjects, they seek to provide an informed, logic-based platform for translating basic research into practical applications in the area of regenerative medicine. This carries enormous potential for the treatment of human disease, as stem cell science offers a particularly broad reach. It can provide insights into normal and abnormal development in human cells, and holds the potential for the repair and replacement of human tissues and organs.
McMahon's basic research has yielded important findings into the biology of mammalian signaling factors that have been translated into clinical medicine with the development of a novel anti-cancer drug, vismodegib, the first FDA-approved hedgehog pathway inhibitor, in a Curis/Genentech partnership.
Before arriving at Harvard, McMahon led the Department of Cell and Developmental Biology at the Roche Institute for Molecular Biology in Nutley, N.J. He previously held the position of staff scientist at the National Institute for Medical Research in London, where he started his independent research program.
While at the National Institute for Medical Research, McMahon worked closely with Brigid Hogan, George Barth Geller Professor and Chair, Department of Cell Biology at Duke University and director of the Duke University Stem Cell and Regenerative Medicine program. She lauded his innovative work in kidney development research.
McMahon received his bachelor's degree from St. Peter's College, Oxford University and his Ph.D. from University College in London. He subsequently worked for three years as a postdoctoral fellow at the California Institute of Technology.
McMahon is an elected Fellow of the American Association for the Advancement of Science, the American Academy of Arts and Sciences, and the Royal Society (London), as well as an elected Associate Member of the European Molecular Biology Organization. He has served as an editor of the journals Development and Developmental Biology, and on the editorial boards of several other scientific journals, including Genes and Development and Current Biology.