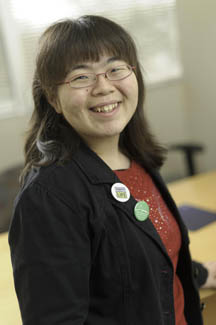 LOS ANGELES, CA – August 15, 2011 – UKRO, a Los Angeles–based nonprofit organization supporting medical research related to the prevention, treatment, and eradication of all forms of kidney disease, has announced that two-time kidney transplant recipient Mary H. Wu will represent UKRO as a float rider on the Donate Life float in the 2012 Rose Parade.
"This is the first time UKRO has sponsored a float rider in the parade, and we couldn't be happier about bringing Mary Wu out from New York to represent us," said Ken Kleinberg, President of UKRO. "We support organ donation wholeheartedly, but as Mary herself well knows, there will never be enough donors. For kidney disease, intensive research is the only way to ultimately make the need for transplants obsolete, and raising funds for that research is UKRO's sole mission."
Ms. Wu was diagnosed with chronic kidney failure at age three, and underwent more than a year of dialysis before receiving her first transplant at age four and a half. The immunosuppressant medications necessary to avoid rejection caused her many health problems, and when Ms. Wu was almost twelve, she and her family were told that her first transplanted kidney was failing. She was preparing to undergo dialysis again when the grieving parents of a four-year-old chose to donate their deceased daughter's organs. Ms. Wu received that second transplant—an unusual double-kidney procedure—in 1995. She has since become an advocate for organ donation and research, and an active adult member of the donation and transplant community.
"I am very excited about representing UKRO at the Rose Parade, and I'm proud to have been chosen by such a respected organization," Ms. Wu said. "Research is hugely important. I owe so much to my organ donors and their families—in every article I write, every registry drive I advocate for, and every event where I speak publicly about my life story, they're there with me. But I also look forward to the day when advances in research can make organ donation a thing of the past."
Nearly 26 million people in the United States alone are believed to suffer from some type of kidney disease, and millions of others are at increased risk. The Wall Street Journal's Marketwatch reported in 2009 that Medicare costs for kidney disease are almost $72,000 per patient annually—more than 25% of the total Medicare budget. Additionally, the American Society of Nephrology states that the annual costs of treating end-stage renal disease (ESRD, or complete kidney failure) are currently $32 billion, with the number of ESRD patients expected to escalate to 785,000 by 2020, up from 380,000 in 2000.
Despite these statistics, kidney disease research remains under-funded. UKRO is contributing to kidney research primarily—but not exclusively—at the Keck School of Medicine at the University of Southern California, and hopes to secure contributions sufficient to establish a kidney research center on the West Coast the like of which does not presently exist.
ABOUT THE DONATE LIFE FLOAT
The 2012 Rose Parade theme is "Just Imagine . . . " and the Donate Life float continues that thought, inspiring millions of parade viewers and spectators to "Just Imagine . . . One More Day" when donor families are reunited with loved ones, transplant recipients thrive, and living organ, eye, and tissue donors step forward so that life-saving transplants are available to everyone in need. Donate Life's ninth Rose Parade float entry will carry 28 donor family members, living donors, and transplant recipients—all of them vital reminders to make every day count.
Donate Life hopes everyone watching this year's Parade will take a few minutes to join the more than 100 million Americans who have already registered as donors. The families of organ and tissue donors, living donors, and recipients of life-saving transplants know intimately the preciousness of time and how important "…One More Day" can be to remember a loved one, celebrate life, keep hope alive, and make a difference to others.