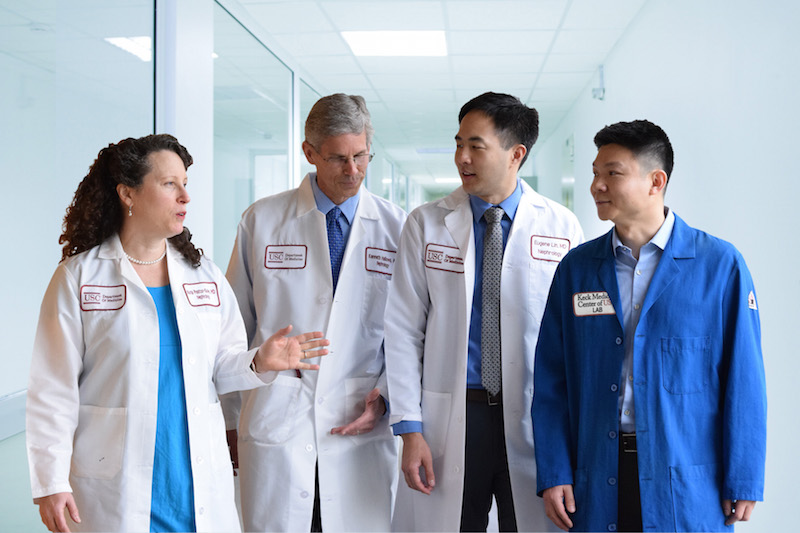 USC partners with the Keck School of Medicine of USC to fund and staff the USC/UKRO Kidney Research Center (KRC), which features two floors of state-of-the-art laboratories designed specifically for kidney research. The KRC collaborates with world-renowned physicians and scientists from multiple departments and centers at USC and beyond. A dynamic campus promotes groundbreaking research and houses three hospitals, giving investigators the opportunity to learn from a diverse patient population.
KRC scientists are searching for answers to the most important questions about the kidney and kidney diseases. Their work focuses on:
Creating a synthetic transplantable kidney with stem cell therapies.
Uncovering new treatments and metabolic biomarkers for polycystic kidney disease (PKD).
Preventing hypertension and developing individualized cures.
Developing novel therapies for acute kidney injury.
Discovering biomarkers for kidney cancer.
Protecting the health of living kidney donors.
Examining health policy and economics pertaining to kidney disease to improve patient care.
Principal Investigators
KENNETH R. HALLOWS, M.D., PH.D., F.A.S.N.
Director, USC/UKRO Kidney Research Center; Professor of Medicine; Chief, Division of Nephrology and Hypertension
NURIA M. PASTOR-SOLER, M.D., PH.D., F.A.S.N.
Associate Professor of Medicine; Assistant Dean of Mentoring for Keck School of Medicine
ZHONGWEI LI, PH.D.
Assistant Professor of Medicine and Stem Cell Biology and Regenerative Medicine
EUGENE LIN, M.D., M.S.
Assistant Professor of Medicine; Clinical Fellow, USC Schaeffer Center
The History of the Kidney Research Center
In September 2012, UKRO entered into an agreement with the Keck School of Medicine of the University of Southern California to establish a premier center nationally for kidney research—the USC/UKRO Kidney Research Center (KRC). The research labs officially opened in September of 2015.
UKRO has made an initial $3.5 million pledge to support the establishment of the KRC, and research at the KRC will be the primary beneficiary of UKRO's fundraising for the foreseeable future. USC's Keck School of Medicine has not only matched UKRO's pledge, but has exceeded it by a factor of three. We are very appreciative of USC's commitment!
Support for the KRC also includes gifts from donors like you! Please give today.
Read about research projects at the KRC.