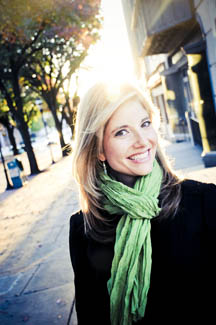 LOS ANGELES, CA – May 17, 2011 – UKRO, a Los Angeles–based nonprofit organization supporting medical research related to the prevention, treatment, and eradication of all forms of kidney disease, has announced that kidney transplant recipient Valen Keefer (formerly Valen Cover) will join UKRO as a national spokesperson in support of its mission.
"We are delighted to have Valen join our organization. She's had a long struggle and is passionate about telling her story of hope and increasing awareness for more research concerning kidney disease," said Ken Kleinberg, President of UKRO. "If we can make kidney research a priority in the public mind—like research regarding AIDS, cancer, heart disease, and juvenile diabetes—we can expect to see much faster progress in finding better and more effective treatments to further help patients like Valen."
Valen joins multiple Grammy® Award–winning singer and songwriter Natalie Cole as a spokesperson for UKRO, and will support its efforts and help raise awareness about the importance of research in fighting all forms of kidney disease. Ten years after first being diagnosed with polycystic kidney disease (PKD) at the age of 10, Valen received a kidney transplant in August 2002. One of the most common life-threatening genetic diseases, PKD affects 600,000 Americans and 12.5 million people worldwide.
"I am honored that my commitment and advocacy has been recognized by such a respected organization as UKRO. Because so many members of my family suffer with PKD, or have died from it, I have developed a strong connection with those who endure the pain and suffering of every form of kidney ailment," Valen said. "Following my life-saving kidney transplant nine years ago, I made it my life's purpose and primary goal to help in the cause of fighting kidney disease. It is my passion, and I believe that when passion and purpose join together, there is nothing we cannot achieve."
26 million people in the United States alone are believed to suffer from some type of kidney disease, and millions of others are at increased risk, according to the National Kidney Foundation. The Wall Street Journal's Marketwatch reported in 2009 that Medicare costs for kidney disease are almost $72,000 per patient annually. Additionally, the American Society of Nephrology states that the annual costs of treating end-stage renal disease (ESRD, or complete kidney failure) are currently $32 billion, with the number of ESRD patients expected to escalate to 785,000 by 2020, up from 380,000 in 2000.
Despite these statistics, kidney disease research remains under-funded. UKRO is contributing to kidney research primarily—but not exclusively—at the Keck School of Medicine at the University of Southern California, and hopes to secure contributions sufficient to establish a kidney research center on the West Coast the like of which does not presently exist.
UKRO's Medical Scientific Advisory Board is chaired by Dr. Vito M. Campese, Professor of Medicine, Physiology and Biophysics, and Chief of the Division of Nephrology and Hypertension at the USC Keck School of Medicine. That board also includes, among others, Alicia McDonough, Ph.D., Professor of the Department of Cell and Neurobiology; Janos Peti-Peterdi, M.D., Professor of Physiology, Medicine and Nephrology; and Donald Marsh, Ph.D., Dean Emeritus of Brown University Medical School and Professor of Medical Science.
ABOUT VALEN KEEFER
Valen was born, raised, and educated in York, Pennsylvania, and worked there full-time before moving to Auburn, California with her fiancé to follow their dream of living on the West Coast. For the first 20 years of her life, she suffered from a variety of illnesses and disorders, including seizures, scoliosis, pancreatitis, polycystic kidney disease (PKD), and a serious motorcycle accident. Today, she is healthy and strong and committed to helping make a difference in the fight against kidney disease.
A founder of the South Central Pennsylvania chapter of the PKD Foundation and an advocate for PKD in the halls of power in Washington and her state legislature, she has traveled throughout North America in recent years to speak to thousands of people to help raise awareness of kidney disease and organ transplants. She is a dedicated volunteer and successful fundraiser for her cause, and her story inspired the 2008 award-winning biography, "My Favorite American." Currently employed at an architectural firm in Auburn, she considers her volunteer appointment with UKRO a major chapter in her ongoing efforts to educate and fundraise in support of medical research of all forms of kidney disease.