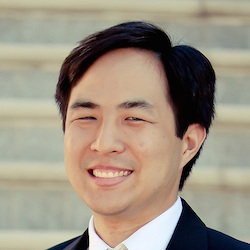 This month the USC/UKRO Kidney Research Center (KRC) welcomed Eugene Lin, M.D., M.S., to the team. Dr. Lin is an Assistant Professor of Medicine with a joint appointment at the KRC and the Department of Medicine's Division of Nephrology and the Saul Price School of Public Policy and the USC Schaeffer Center. His research interests focus on healthcare economics, health policy, and Medicare outcomes. His expertise compliments the work at the KRC and will help to retain and recruit medical students, fellows, and trainees interested in policy research. He will be a wonderful resource for everyone at the KRC and the Keck School of Medicine.
Dr. Lin earned a bachelor's degree from Stanford University and an M.D. from Baylor College of Medicine, and completed internal medicine residency at the Hospital of the University of Pennsylvania before returning to Stanford for nephrology training. He also completed an M.S. in health services research at Stanford. During his time as a visiting scholar at the Schaeffer Center, his research focused on 30-day re-hospitalizations in dialysis patients, how Medicare policies affect the billing and delivery of healthcare by physicians and other providers, and the optimization of healthcare delivery. He has recently studied the cost-effectiveness of a multidisciplinary care program for chronic kidney disease.
A member of the American Society of Nephrology's Policy and Advocacy Committee, Dr. Lin recently wrote a thoughtful opinion piece for that organization about the importance of fighting for patients' health amidst rising healthcare costs.