About UKRO and the USC/UKRO Kidney Research Center
UKRO is a Los Angeles-based nonprofit charity founded in 2002 by entertainment lawyer Kenneth Kleinberg with the help of Dr. Vito M. Campese, then Professor and Chief of the Division of Nephrology and Hypertension at the Keck School of Medicine of USC. Our mission is fundraising to support medical research and education related to the causes, treatment, and eradication of all forms of kidney disease.
Since 2002, UKRO has raised significant dollars to fund cutting-edge
research
at the earliest stage of development, in addition to educational
symposia
and
fellowships
. Our
special project grants
have been awarded to nationally recognized experts from interdisciplinary labs at
the Keck School of Medicine of USC
, City of Hope, and UCLA.
We believe that collaboration among scientists working in a variety of fields is the key to understanding chronic kidney disease, discovering improved therapies, and finding a much-needed cure. To that end, in September 2012, UKRO entered into an agreement with the Keck School of Medicine of the University of Southern California to establish what we envision as a premier center nationally for kidney research—
the USC/UKRO Kidney Research Center (KRC)
. We have made an initial $3.5 million pledge to support the establishment of the KRC, which officially opened in 2015. UKRO's gift will be matched by equivalent contributions from the Keck School of Medicine of USC. Led by Kenneth Hallows, M.D., Ph.D., F.A.S.N., the research team at the KRC is exploring kidney regeneration and stem cell therapies, acute kidney injury, hypertension, polycystic kidney disease, acid regulation, kidney cancer, and more.
The Chronic Kidney Disease Crisis
Chronic kidney disease (also known as CKD) is a growing epidemic here in the United States and worldwide, affecting 26 million Americans, many of whom are unaware they have it. CKD is a progressive loss of kidney function, occurring over a period of months or years. In the early stages, there may be few signs that anything is wrong. By the time
symptoms of kidney disease
appear – exhaustion; swelling in the legs, ankles, feet, or face; back pain; unexplained high blood pressure; changes in urination frequency and color - the kidneys may be seriously impaired.
Chronic kidney disease affects the general population, but is particularly prevalent among African Americans, Latinos, Asians, and Native Americans. Diabetes and hypertension are the leading causes of kidney disease. Left untreated, kidney disease can lead to permanent damage and kidney failure. It is imperative that we protect our kidney health.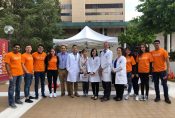 Bravo to the USC School of Pharmacy, members of KDSAP (Kidney Disease Screening and Awareness Program), the Internal Medicine Residency Program and the Division of Nephrology and Hypertension at the Keck School of Medicine, and all involved in the 2nd Annual World Kidney Day Health Fair, which took place on…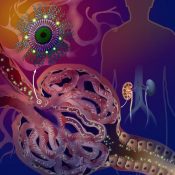 In an exciting cross-collaboration, researchers from the USC Viterbi School of Engineering and the Keck School of Medicine have created tiny nanoparticles, known as micelles, to target diseased kidney cells. Made with an ingenious kidney-targeting peptide, these biocompatible and biodegradable micelles can pass into the kidney and remain there, with…